blah blah blah... talk too much
I really do... take that as your warning.


0 6 . 2 7 . 0 3 | 0 2 : 2 0 p m
Yay! I got more stuff up on Ebay. take a look! Now I just need some bidders! Two of the stuff I put up are actually things I debated about parting with (the purse and the red wooden sandals). Anyway, I'm heading out for an interview now. I'm nervous as hell! I'm on the verge of getting an anxiety attack. I am afraid of failure... big time! Okay, help spread the word of my ebay if you can! :)

0 6 . 2 5 . 0 3 | 1 1 : 4 6 p m
I'm feeling so unproductive and fat. I hate this feeling. I just ended my "end of the sentence" and I'm bloated like a balloon, but feeling heavy like an ancor. So what's my solution?!... I'm going to go jogging every morning at 6 am! That's right! Sure, I'm totally not a morning person, and sure, I have been going to bed at 4 am, but I'm gonna do it. Well, for today at least. :) I want to get into good productive habits (meaning controlling my Pokemon, the game, addiction and getting off my butt).

My plan is to run to Jonathan's house starting at 6... ok, I'll just wake up at 6. Leave the house at 6:30. Get to his house at 7:30 (he lives a little over 5 miles away). Say hello and hang out until he goes to work, then make my journey back home... or he could just give me a lift. :) Then, come home and do my ebay stuff. (I just started my ebay site... take a look!) I guess it's not a good thing for me in the sense that it's just another addiction for me (I'm writing this sentence at 3am). Why do I have to have such an addictive personality?! Oh well, now I just need to put some products up (update: I put two products up. should be up at 11:30 AM). I have taken pictures of some. I just need to write up the html code so that I can customize the picture layout and stuff. For those who don't know, ebay only lets you display one pic for free and the rest cost. So I plan to code it in myself, but I just haven't had the time. I spent all day today working on that about me page. Well, not all day, but a good amount of the day. I kept getting distracted. But I did manage to apply for a parking pass at UCLA for next year and... uh, ... I guess that's all I did today. *lowers head*

0 6 . 2 4 . 0 3 | 0 1 : 5 6 p m
Yay! My computer is finally hooked up! :) Took long enough. Unpacking is still coming along. It's been over a week already and I'm still not settled in yet. I am working on selling some of my stuff off on Ebay and giving this site a new look! :) I actually have the layout done. I've just been too lazy to change everything over. Oh well.

I got my final quarter's grades finally. Funny thing is the class I was worried about not passing was dance. I ditched too much. We're allowed up to 3 absenses and I had 5. I was really freaking out that I wouldn't pass it because of the absences, but I passed! That means that my minor is Digital Arts is complete! yay! Too bad it takes so long to get your actual diploma... and it's too bad that minors aren't listed on the diploma. My Digital Arts and Education minors are at least listed on my transcript, but who really checks transcripts anyway. Oh well. At least my concentration in science education will be listed on the diploma. Isn't it weird that concentrations are listed but not minors. Maybe I should've finished the last 2 or 3 classes to finish my Computational Physics and Biomedical Physics concentrations. Then again, there are a million things that I would want to get into. It sucks having too many interests. I am like a mile wide but an inch deep.

0 6 . 1 8 . 0 3 | 0 3 : 4 6 p m
Congrats to Jonathan on getting a new job offer!!! :) YAY! Maybe a house isn't as far away as we thought. yeah? yeah?!

Kit and Troy just left. It was fun while they were here. Partying, drinking, and chatting. Kit and I had a pretty good conversation today over lunch. It just gets personally frustrating at times when the conversations are about never ending issues, especially gender roles, social injustice, and other issues with our society and system. I have too many issues with it so it's oober frustrating to go round and round about it.

Anyway, I'm going to get myself to hook up my computer right now. I've been updating from my brother's computer. That's why I don't want to update more than just this. What happens everytime I update from his computer is that I forget to upload the recent files onto my computer. I end up updating an out of date file and lose info. I want to update my reading list to the right, but it's an include file. I won't update it until I'm on my own computer just to be safe (I'm so forgetful!).

0 6 . 1 7 . 0 3 | 0 1 : 4 6 p m
RBJ gathering:


Sarah, Soo, Terence, Caroline (me, duh), Jonathan, Mona, Donny, and Alan.



Picture courtosy of Alan.

Linda and with Raven also joined us but was not present when this picture was taken.

Anyone else have pictures to share?! I especially want to see the one where the guys squatted in the front! I had a lot of fun last night! We should do it again!


Sarah: It was a pleasure to meet you.
Soo: There's no rush to become a man.
Terence: So that's what you look like in person! and with hair!
Caroline (me, duh): I'm glad I woke up for this.
Jonathan: Nice to meet you! :P
Mona: We finally got to meet and hang out! Let us know when you're in town again!
Donny: Thanks for driving!
Alan: It's fun being the young one! :)

0 6 . 1 6 . 0 3 | 0 5 : 2 6 p m
I'm feeling poopy. I think I'm just partied out and craving alone time now. Quick recap:

Thursday: Got really drunk at this club... forgot the name. (is that a bad sign?) Carried on a conversation with this Japanese guy. The only Japanese words I knew was "nut" and two versions of "thank you" (from watching Totoro). That night, I then learned "I'm hungry", "drunk", and "it's good". The only English words he knew was "Corona", "Tequila Sunrise", and "Sounds good". With those couple words, we chatted for hours! :)

Friday: Continued to pack until 4:30 AM.

Saturday: Woke up at 6 AM to finsih packing and load my car. Then headed over to graduation! It was so nice to see all my friends and family! The ceremony was also really special to me because I was presented by two professors that I worked closely with this last quarter (one was my thesis advisor and one was my professor for the thesis??... if that made any sense).

There was only 11 of us Physics majors that graduated, so it was a very intimate feeling. Plus my professor offered me a summer job to help him with this project! It's pending approval, so we'll see. But if the department approves it, I get a $2500 stipend to convert the current Physics labs onto the web.

We then went to this party that night, but it wasn't that happenin'. It was a house party. Most of the people just gambled all night. I feel bad to say, but it was a waste of time... well, later in the night was. The beginning was cool, since it was a friend's grad party. But when everyone started gambling, I got really restless and bored.

Sunday: BBQ! Thanks to everyone who came! The event went from 12 noon till about 8:30 PM. There was lots of good food... BUT, I have these two family members, who shall remain nameless, that are such inconsiderate PIGS! They're adults who have no manners!

My parents bought 60 of these HUGE oysters. The two of them ate around 30 combined! And worse of all, they did this like within the first hour of the party! After they ate, they took off, and couple hours later, came back to look for more food! I don't really care about people who eat a lot (because I eat a lot), nor do I care about people who only comes for food, but I really hate inconsiderate people.

At another party, they came to eat and left after 45 minutes. Great, they left, right? NO, not when they take huge amounts of food to go when it's only 45 min into the party! And considering our parties last 8 hours, that was way too early to be taking food to go, especially in that quantity.

It's also important to note that it's NOT because we don't buy enough food. We always have TONS of food, and Jonathan can vouch for me. Whenever they don't show up, we always end up with SO MUCH leftovers! Now I understand why they are sometimes purposely not invited to family events! :P

argh! I'm all frustrated now after thinking about them again! I don't feel like writing anymore. :(

0 6 . 0 9 . 0 3 | 0 4 : 0 6 p m
We've been moving all weekend. Moving actually hasn't been that bad this year... prolly cuz I have more time than I did in the past since I finished my finals early. I get a whole extra week to move! I've taken home 5 carloads of stuff already (One load being a SUV). Thank you Jonathan for helping me carry all the heavy stuff, driving, unpacking, and watching TV/anime while I pack! :)

I have a lot of stuff, but the big stuff are all gone now (fridge, TV, book cases, dresser...). The only big thing left is my twenty something inch monitor... but I can't part with it yet. :) The room actually looks really full still (but not if you compare it to before).

This week, I'm basically just having lunch and dinner with a bunch of people. Everyday I have someone booked for a meal. That's good, since I took home my fridge already. I've been munching on Pops all morning (uh, morning as in 2PM and on). :P If it wasn't for the insurance lady calling me this morning, I would've been still sleeping! I have having a nice dream, too. Oh well.

Congrats to Jonathan on getting an interview! I'll keep the name of the company nameless for now. But good luck and go kick some butt!

0 6 . 0 5 . 0 3 | 0 4 : 3 6 p m
I'm DONE! I'm DONE! *running my victory lap* I was actually done this morning at 10 when I submitted my thesis, which was 4248 words long (27 pages), but I went to bed after and just woke up. YAY! I'm DONE! I'm DONE! No more classes, finals, projects EVER!... until grad school in September. But I'm done with my undergradute career!!! So now what?! I'm getting drunk tonight! Shoot, why wait, I should just have a head start! :P

0 6 . 0 5 . 0 3 | 0 2 : 5 5 a m
I have a question... Of the two watches below, the Tank and the Panthere, which do you like better? Should I try to exchange my Tank for the Panthere? I really like the daintiness of the Panthere, but the stainless steal one is nothing compared to the white gold one. I really want the white gold one, but it's $15,000, and settling for the stainless steal just doesn't feel the same (it's really not the same after trying on the white gold one). The Tank is a much more casual looking watch. hm... I don't know. I just feel like the watch is too expensive and not worth the money, but my mom already bought it (long story, won't go into it). So if I could exchange it, should I? Rather, do I even want to?

I feel so shallow... but I guess it's great to be DONE with school and have the time to think such shallow thoughts! lol. It's actually just that my mom spent such big bucks on it, I just want to make it worth it. I just don't feel worthy to wear it. argh... I'm suppose to be happy when I get gifts, but I just can't stop thinking, "what a waste of money."

0 6 . 0 3 . 0 3 | 0 1 : 4 6 p m
I got a new watch! :) It's from the Cartier Tank series.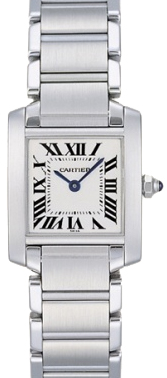 Actually, my mom got it for me. We both actually wanted this watch, the Cartier Panthere: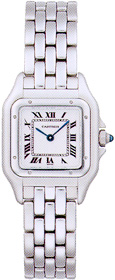 but I ended up with the Tank instead of the Panthere. Nice watch reguardless.

It's a lot dressier than my current watch, a Casio Film Watch:


Actually, the one my mom and I want is the white gold Panthere, which is $15,000. I tried one on the other day when Jonathan and I went to a fine watch store. *sigh* Such a nice watch.

We went to the Cartier store over at South Coast Plaza to get the watch resized. People are so much nicer when they think you have money! :P They even put my extra links into this suede pouch with Cartier's name branded on it.

Jonathan and I also noticed their rings! We've been looking at Tiffany's rings, so it was neat to see other settings. I like Cartier's rings. But I would like to compare it to a Tiffany's ring side by side to compare the diamond. Tiffany diamonds are just so shiny! :) I guess I'll just have to ask my friend Phuong to go with me to the Cartier store so I can compare her Tiffany ring with the Cartier ring. (Jonathan, what a plan, huh?!) *big cheesy smile*